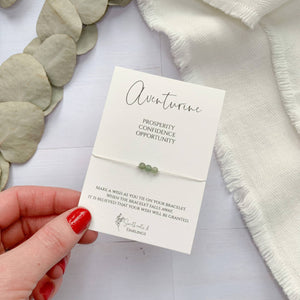 Aventurine - Miniature Wish Bracelet
Bracelets measures approximately 30cm, and once tied can be cut to the desired length. Three Aventurine beads, measuring 4mm, are hand strung and tied onto 0.6mm waxed hemp cord. Wording on the card: Make a wish as you tie on your bracelet. When the bracelet falls away, it is believed that your wish will be granted.
All information about the metaphysical properties of the crystals is for reference only. It is a combination of research on how the gemstones have been used by different cultures today and throughout history. We do not recommend using crystals as a substitute for conventional medical or psychological treatment and do not claim they cure or heal medical conditions.
---